Episodes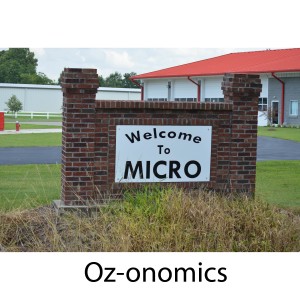 Tuesday Jan 14, 2020
Tuesday Jan 14, 2020
Explaining how scarcity, opportunity costs, and supply and demand affect college students and the world around them. College students spend their money differently from person to person, but the rules are all the same. There is scarcity in resources that make finding jobs difficult, not to mention the stiff competition from the rest of the world. Your choices will always have some kind of costs, it is just up to you to deal with them as you see fit. Supply and demand control the economy, and you are part of it too, so think about who you are and what you will be needed for.
Podcast by Matthew Bailey.
Transcript
[MUSIC]
Kate: Hey everyone. Welcome to Oz-onomics, a podcast created for and by students in introductory economics classes at SUNY Oswego.
GABRIELLA: In this series, we'll have discussions about various economic principles and how they apply to our day to day lives.
KATE: Are you ready?
GABRIELLA: Let's go.
[MUSIC]
Hello, everyone! I am Matt Bailey, and welcome back to our podcast. Today we will be looking at how college students decide to spend their money, and how this affects their spending habits and other aspects of their life. The first thing we will be looking at is a concept known as opportunity cost. Opportunity cost is when you have a choice between two options, say, going to a movie theater or eating at a nice restaurant. If you decide to go to the restaurant, your opportunity cost is the movie you would have seen, and vise-versa. When you are on a limited budget, opportunity cost can be a very, very difficult thing to deal with sometimes. Say, for example, that you really want to do something nice for your friend on their birthday. You want to spend, say $10 on a gift for them, and you only have forty dollars to spend that month. If you do this, your friend will be very happy, but you will have a lot less money to spend on yourself. So here is where the opportunity cost can be hard to achieve and hard to deal with if you had to live on your own. Another big issue, especially for most college students, is the concept of scarcity. Scarcity is the idea that resources are all finite: There are only a certain amount of resources of any given type available to the economy. Let's say, for example, that you are a college student and you have a lot of time on your hands, and you are looking for a part-time job. Unfortunately, more often than not, you'll only be able to find a job on-campus. But then again, there are twenty thousand people just like you that might want a job as well. But let's say you decide to find a job off-campus. Here, you have an even bigger problem, because the rest of the world, city, state, etc., has many people who need jobs as well. If you take it from them to have spending money at college, the person you took the job from may not be able to feed their family for the night. But of course, this is never guaranteed to happen. There are always other jobs out there, not just the cashier position at Spirit Halloween, or the sandwich artist at Subway, or anything like that. There are countless jobs out there, it just depends on specializations, or work availability, scheduling, and above all supply and demand. Supply is the amount of resources or products or services that are available in the economy, and demand is as the name suggests: How much it is needed or wanted at that moment in time. Let's say for example that there is a job opening up for a new supermarket. There are a lot of job opportunities there, which means a lot of demand for people to apply for work. So let's suppose that they were looking for young adults or teenagers (aka college students) to fill out their more mundane tasks like cashiers or stock boys. If the supermarket decided on this course of action, they would have an opportunity cost of the people not in college, for example, the unemployed men and women in the city they are currently in. But, they are also aware that the supply of college students who need a job is also very high. So, this is where the balance can be maintained. Now, this also ties back into scarcity: Because there are only so many positions available at this supermarket, there are only so many people that can get jobs at that place. Now, do you want to get the job, or do you think your friend needs it more? You have two options: One, you could let your friend get the job, help him pay his bills, put food on the table, get the books he needs for class, things like that. However, if you do this, you won't have any money for yourself to spend on free time, or for your own books or doing personal maintenance for things. Weighing your options and making these decisions is possibly the most difficult choice that college students have to make. There are many more like them, but this is all we had time for right now, so thank you for listening, and I will see you again next time. Buh-bye!
[MUSIC]
MICHAEL: There you have a folks on another edition of Oz-onomics, where economics becomes easier for Oswego students to understand where you get your money that you pay for your tuition worth. If you feel like being ahead of the curve, grab a seat, grab your phone, shift your fingers left and right. And download Oz-onomics on the podcast app. See you later.

The introduction to this podcast was provided by Kate Soanes and Gabriella Schaff. Michael Kolawale provided the outro. Music by Lobo Loco.