Episodes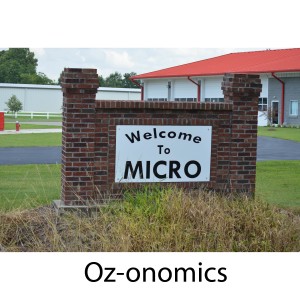 Tuesday Jan 14, 2020
Tuesday Jan 14, 2020
Substitute goods are products that when purchased, there is an alternative product that is being given up in its place. Technological advancements and marketing strategy combine to influence competition and varying rates of success of a company. Opportunity cost intertwines with these topics because individual preference comes down to how the consumer came into contact with the product, their necessity of the product, and how it appeals to them personally. An individual who likes a good, is likely to become a returning customer which is where a firm is going to make a decent percentage of their output. Comparative advantage is when companies produce a product at a lower cost per additional unit than another distributing the same product. Each company has their own motivation to influence the market, and the competition that exists leaves them attempting to appeal to consumers who are only willing to purchase their good/service if the opportunity cost is low and they are giving up the least amount of benefits.
Podcast by: Malcolm Wettering
Transcript: 
[MUSIC]
Kate: Hey everyone. Welcome to Oz-onomics, a podcast created for and by students in introductory economics classes at SUNY Oswego.
GABRIELLA: In this series, we'll have discussions about various economic principles and how they apply to our day to day lives.
KATE: Are you ready?
GABRIELLA: Let's go.
[MUSIC]
There is constant competition among producers of substitute goods. For obvious reasons there are whole branches within companies dedicated to marketing strategy and figuring out how to make products the most desirable. Tactics of this include the use of social media, billboards, television commercials, and other advertisements that are came into contact with daily by the public. This is all built around the concept of opportunity cost, which is the benefit being given up when choosing one alternative over another. An example of this occurs with two very successful producers, Bose and Amazon who compete in earbud audio technology. With no sign of a stop in advancements any time soon, there is a constant push for being the best on the market which involves the use of technology that may be unoriginal to the producer. This was the case for Bose when Amazon began using their technology in their newest model. A Bose spokesperson made an announcement that this happened as another way to swing public opinion, which is a marketing strategy in itself. Since the term "benefit" to one person could be a con to another, this makes selling newer models even more difficult because sometimes producers do not fulfill the high hopes of the consumers. This is an ongoing cycle where there are constant improvements made as time progresses. This ensures higher output than what is being put into the economic market to reach these improvements. Competition is good for the market because without it producers would be able to raise their prices which would cause issues for people from every social status. The opportunity cost is comprised of individual preference and how the product can be distinguished from another while still maintaining its true purpose in order to sway a consumer their direction as opposed to competitors. Subtle differences become magnified when a product is compared to its alternatives. I think future advancements will rely less on complex technology and more towards convenience, because the more time that is saved using this good the more desirable it is. Especially considering the type of livelihood that exists among the people of the modern era, where consumers are willing to pay more for products that are easy to use, easy to understand, and allow for the least amount of work the individual has to actually do. Opportunity cost also ensures the appropriate allocation of resources are being used in a world full of scarcity. In order to run efficiently, companies must optimize their resources to make profit. This system works in favor of the consumer and producer because the better that resources are distributed, the cheaper the cost to make the product which in return reduces the price of the product for the consumer. Economics is considered a social science because of the unpredictable human factor. Models can be developed to support different systems of economic thought. The market strategy tends to be based on information at any given moment of time because of the large number of variables that come into play and how quickly information can encourage or discourage consumers. Each individual has their favorite brands and products and the more companies appeal to their target audience, the more likely they are to spread the word and convince others to switch over. This tends to occur frequently because people within social groups share similar wants and needs. For example, outdoorsman are going to discuss their favorite brand with other outdoorsman. Just as chefs would discuss their favorite products with each other in that niche of the market. Complexity is an understatement considering the amount of disagreement that exists between people with extensive economic knowledge. This is because there is more than one way to reach the same goal by exercising various economic policies. Substitute goods describes the predicament when the purchase of one product means not obtaining another. This is important because it explains why businesses are so eager to sell products they believe to be more convenient and better suited for their target crowd than another business with overlapping similarities. I think opportunity cost ties into the sale aspect of the market because the public is going to purchase something when they are giving up the least amount of benefits. It is human nature to want the most out of each dollar spent so each individual can allocate their own resources efficiently depending on their budget. Budget is important because opportunity cost can be based on knowledge of the target consumers income. A lower price is more beneficial than a substitute good at a higher price because if two goods are nearly identical, but one is cheaper than the other, then the cheaper good will likely draw more business. The opportunity cost between consumer goods and their alternatives drives companies producing substitute goods to make the most out of their resources which are always limited to some degree, in order to best please the public. Comparative advantage is involved since some companies are able to produce a good cheaper than another business selling the same good, which will allow for a lower opportunity cost and more output. Trying to constantly please the public may leave a company wondering what they could possibly do next after exhausting ideas because they are already doing the best of their ability. I think that the best option for businesses is to offer incentives to increase the likelihood of customer loyalty. Customer loyalty is important to success because returning customers help keep things progressing even when sales are not going as well as predicted for newer products. I think that the combination of efforts between consumers and producers has created a symbiotic relationship where most companies and most people interact with each other in a way that is beneficial to both parties.
[MUSIC]
MICHAEL: There you have a folks on another edition of Oz-onomics, where economics becomes easier for Oswego students to understand where you get your money that you pay for your tuition worth. If you feel like being ahead of the curve, grab a seat, grab your phone, shift your fingers left and right. And download Oz-onomics on the podcast app. See you later.

The introduction to this podcast was provided by Kate Soanes and Gabriella Schaff. Michael Kolawale provided the outro. Music by Lobo Loco.