Episodes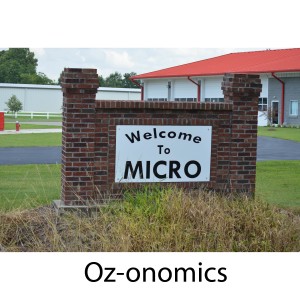 Tuesday Jan 14, 2020
Tuesday Jan 14, 2020
Hi, my name is Tyler Rogan and today I will be discussing a few real life economic topics regarding hunting. The topics I will be discussing are the overall hunting market, opportunity cost, demand and supply, price elasticity, sunk costs, scarcity, and cost of production.
Transcript
[MUSIC]
Kate: Hey everyone. Welcome to Oz-onomics, a podcast created for and by students in introductory economics classes at SUNY Oswego.
GABRIELLA: In this series, we'll have discussions about various economic principles and how they apply to our day to day lives.
KATE: Are you ready?
GABRIELLA: Let's go.
[MUSIC]
Hi, my name is Tyler Rogan and today I will be discussing a few real life economic topics regarding hunting. The topics I will be discussing are the overall hunting market, opportunity cost, demand and supply, price elasticity, sunk costs, scarcity, and cost of production. To open this podcast up I would like to shed light on hunting as a whole, us hunters are bigger conservationists than people think. For example, throughout the year we attend multiple sporting outings, dinners, and fundraising events. With all proceeds going directly into habitat conservation and game and wildlife management. Not to mention in order to hunt any type of waterfowl game you must purchase a $25 dollar duck stamp with proceeds going directly back into conservation. With that said the sport of hunting is about comradery, friendship and great eating, as well as taking from the land while also giving back. Hunting is a very seasonal sport, in fact it's pretty much a fall sport with a big break in the winter, eventually opening up to a smaller season with spring turkey and squirrel.That being said let's start by discussing the funny but true topic in opportunity cost associated with the sport of hunting. Let's be real as an avid hunter even I recognize that our opportunity cost is among some of the biggest. The hours or even days we spend in the woods or swamps could be time used working overtime or studying. Our decision to go hunting results in a significant loss in money due to our unique opportunity cost. Many people I know often skip class or find excuses for work that morning to hunt……. It's addicting. The overall market of hunting varies due to the changing seasons for example as soon as fall hits all brands and retail stores go full price frendzy mode. Deer season, turkey season, and waterfowl season are the big ones that cause hunters flock to stores for new ammunition and this years new gear. Then once winter hits stores slowly start to mark down gear and ammunition from 5-10% in the winter to 50% in the summer. Yes turkey loads and turke gear goes up in the spring but besides that all other hunting gear typically stays 5-10% off due the lowered demand. Which brings me to my next point in supply and demand. Obviously the supply triples two weeks before fall being at the peak of demand for the whole year. The demand increases due to the upcoming anticipation of upcoming deer and waterfowl season. Often times the surplus of gear and ammunition in hopes for a huge push in the fall always leads to a surplus in the spring in summer causing every hunters dream and huge price reduction to low demand and with a surplus supply. Leading to the topic of price elasticity with the changing seasons of hunting causing price elasticity to be all over the place just like I mentioned for the supply and demand. Price will be high in season Fall and spring, while falling low in price during the summer and peak of winter when no season for hunting is open. As far as cost of production hunting gear tends to typically be a little higher since a lot of brands stand behind "American Made" items. For example all of Remmington guns and ammunition is made in America. Where if they outsourced some of their production to overseas the cost of production and retail prices might be lower. Although I myself would rather the items be made in America to help our economy. Another funny topic for hunters is the sunk costs associated with our very expensive sport. Think about all the shots you miss especially as a waterfowl hunter the amount of shot shells that you miss is considered a very considerably expensive sunk costs. With box of shells retailing around 30 dollars. Now to talk about a very controversial topic for hunters and the government agencies in charge of changing seasonal bag limits for waterfowl and upland game. This year the waterfowl limit for geese went from 5 birds to 2 a day. While the duck limit changed from 4 birds to 2 this year. This is a direct result of scarcity which has been going on for years now, which is the reason I say controversial. Limits do need to be reduced but it is less fun and irritating to avid hunters. When I was 12 years old bag limits used to be 7-12 birds a person. This podcast "Hunting meets Economics" was a real life example and in my opinion a great way to better understand very important topics for Economics. Thank you I hope you enjoyed.
[MUSIC]
MICHAEL: There you have a folks on another edition of Oz-onomics, where economics becomes easier for Oswego students to understand where you get your money that you pay for your tuition worth. If you feel like being ahead of the curve, grab a seat, grab your phone, shift your fingers left and right. And download Oz-onomics on the podcast app. See you later.

The introduction to this podcast was provided by Kate Soanes and Gabriella Schaff. Michael Kolawale provided the outro. Music by Lobo Loco.