Episodes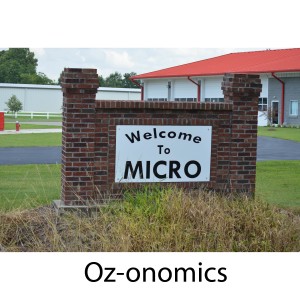 Tuesday Jan 14, 2020
Tuesday Jan 14, 2020
Smartphones are everywhere, or so we in the United States like to think. In many regions across the globe, high-end smartphones (such as Apple's iPhones) are not deemed as necessitates, and thus have a higher elasticity as a product. What does this mean for the demand of smartphones worldwide, and how does this impact the products of smartphone companies?
Podcast by Nicky Radford.
Transcript
[MUSIC]
Kate: Hey everyone. Welcome to Oz-onomics, a podcast created for and by students in introductory economics classes at SUNY Oswego.
GABRIELLA: In this series, we'll have discussions about various economic principles and how they apply to our day to day lives.
KATE: Are you ready?
GABRIELLA: Let's go.
[MUSIC]
My name is Nicky Radford, and in this episode, we'll be discussing smartphones, their price elasticity (or lack thereof), and how their market is more than meets the eye. In the modern world, smartphones seem like a necessity. We live in a society that needs to have everything right at our fingertips. Information needs to come faster than it came yesterday. As such, smartphones have become more and more in demand, and the supply is matching that. At least, that's what the assumption would be. It's not as clear cut when you look at it from another perspective. The smartphone market, like all markets, is rather complex, and dissecting it can lead to a greater understanding of our economic landscape. Let's discuss the market for smartphones. According to an article from the Pew Research Center, 81% of adults in the United States own a smartphone of some kind as of February 2019. One may assume that means that demand is increasing, but in actuality, the demand for purchasing a new smartphone has steadily decreased, as fewer and fewer Americans are without a smartphone. Those that do rarely purchase the upgraded version when it immediately comes out; they may wait a few generations, or keep the smartphone they bought at the outset and keep it until it is no longer usable. This is to say that while smartphones are becoming a greater constant in our world, the market for smartphones is reaching a plateau, since the number of those without one or needing to upgrade one is shrinking. When in the market for a new smartphone, there's plenty to consider: brand recognition and reputation, hardware specifications, brand-exclusive features, and more. But where the consideration really begins is the price. The unfortunate fact is that many of the latest and up-to-date smartphones cost significantly more than what they used to, which can make it challenging for a consumer to afford the product, which can affect their desire and demand for it. Let's take a look at the two largest smartphone companies on the planet: Apple and Samsung. From an American perspective, it may appear that Apple is the dominating smartphone brand. With every annual iPhone release, it seems that Apple consumers are craving a new model. No matter the price, people are in need for a high-end smartphone. From this lens, it seems the demand is high, and the price elasticity of demand is fairly inelastic. A significant price difference between the newest iPhone and the previous one does not seem to sway Apple's target demographics. However, the same cannot be said for other regions across the globe. According to an article from Computerworld, "Except for North America and in Asia or Pacific nations, Apple saw iPhone demand weaken in most areas, including in greater China, where its market share dropped from 14.6% [Note: I wrongly said 16.6% in the audio] in [the Fourth Quarter in 2017] to 8.8% this past quarter. For 2018 as a whole, iPhone sales were down 2.7%, [which was] just over 209 million units." In America specifically, the market for iPhones seems to be coasting well. For much else of the world, people are looking toward alternative options. The price elasticity in regions such as Europe and Africa is likely more elastic than that of North America. In those regions, high-end smartphones may not be seen as necessities in the way North America sees them, and thus consumers in those regions are willing to seek substitute goods. Another way to look at it is that high-end smartphones are seen as a normal good in North America, but a luxury good in other regions. A higher income may result in a greater demand for high-end smartphones, but a consumer with a lower income may be more comfortable with what they can afford. The demand for smartphones is present in all regions, but a significant price may convince consumers to seek out an inferior good due to their budget, such as a less expensive smartphone or a non-smart cellular device. Now, let's look at Samsung, the other top dog of smartphone sales. Globally, Samsung is the actual leading brand, as they produce smartphones beyond one high-end product line; they offer mid-priced smartphones as well. Samsung recognizes that the price elasticity of smartphone demand can be much more elastic in different regions, and so to remain competitive they offer products in the same market at different prices. This breadth in the market may be enticing to some consumers, leading them to choose Samsung. So what does this mean for smartphones and the companies that make them? Well, Apple's plan seems to be to keep making high-end iPhones, with upgraded features and higher prices with every new release. In America, that seems to be no issue at all, but they run into trouble in other regions over time. As for Samsung, their strategy is likely going to keep them as the global giant that they are, so long as no competing companies gain more share in the market. How much these two companies are prioritizing the elasticity of smartphones will continue to be a factor in the products they produce, and may impact their demand in the future. Thanks for listening.
[MUSIC]
MICHAEL: There you have a folks on another edition of Oz-onomics, where economics becomes easier for Oswego students to understand where you get your money that you pay for your tuition worth. If you feel like being ahead of the curve, grab a seat, grab your phone, shift your fingers left and right. And download Oz-onomics on the podcast app. See you later.

The introduction to this podcast was provided by Kate Soanes and Gabriella Schaff. Michael Kolawale provided the outro. Music by Lobo Loco.