Episodes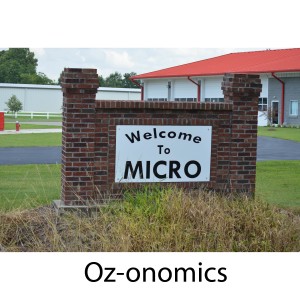 Tuesday Jan 14, 2020
Tuesday Jan 14, 2020
The purpose of this podcast is to inform listeners of the deadweight loss of holiday gift giving. It discusses how gift giving takes away purchasing power from a consumer which in turn results in the deadweight loss. If a consumer doesn't value the gift at the actual price spent on it, there can be a lot of "wasted" money in the gift exchange process. Listen to this podcast to learn why giving cash and gift cards isn't a bad idea for the holidays, especially if you don't know the gift receiver well.
Podcast by: Mallory Jennings
Transcript
[MUSIC]
Kate: Hey everyone. Welcome to Oz-onomics, a podcast created for and by students in introductory economics classes at SUNY Oswego.
GABRIELLA: In this series, we'll have discussions about various economic principles and how they apply to our day to day lives.
KATE: Are you ready?
GABRIELLA: Let's go.
[MUSIC]
Hello, my name is Casey Stewart and todays podcast will be about how managers come to making decisions in the workplace. We will discuss how they use what's called marginal analysis. I chose this topic because I am a business administration major and I enjoy being part of the decision making processes for the companies I have and am currently working for. Let me explain marginal analysis…. Marginal analysis is a look at the additional benefits of a decision compared to the additional costs of that same decision. Basically what am I gaining? And what am I losing? Lots of companies use marginal analysis to make big decisions within their companies. One of them being the hiring process. They look at potential employees and say to themselves what good will this employee bring to the table? or What sets them apart from the next person walking through that door? Then they ask themselves, well how much is this person going to want to get paid for their contributions to the company? If the gain of the employee's labor is more than the cost of their compensation, this is a good rational decision. The word marginal refers to the focus on the benefit of the next person walking through the door or the profit earned by adding another employee. Marginal means when one unit is added then what change does it bring to the result or to the company. When companies use marginal analysis they compare the costs and potential benefits of their business activities or financial decisions. Take my company Spectrum for example. This month were going through our "annual" (and I air quote annual) rate adjustments. Yes they raised the price of internet yet again. This is a great example of marginal analysis. They weighed the benefit of getting more money to the cost of potentially losing customers. They want to focus on making their infrastructure better. In order to accomplish this, they need more funds. They see the cost of losing customers for now being less than the benefit of making their internet faster and more reliable. Were talking 10G in the future people! Businesses need to also understand the concept of marginal costs. Marginal costs are the increase in total cost as a result of producing one extra unit. In reference to the example of the price of internet increasing, the company's marginal cost is the cost of one customer leaving us to go with another provider for internet. The company raised the cost of internet $5 a month, knowing they could lose a customer that is currently paying $70.99 a month for internet. Now in the short run they know that the price increase of the internet will cause some customers to leave. They know that some will stay even though they increased the cost due to the internet being a much needed amenity. In the long run they believe that those customers will return to company knowing that they are very competitively priced and they offer the best service in regards to speed and reliability. In the example of hiring employees the marginal cost of hiring the more experienced employee who is asking for more money, is the amount of money the company will lose when they hire that employee versus someone asking for a less amount but with less experience. Marginal analysis is the process of breaking down decisions into yes or no smaller choices. That's what economics is right? All about the choice we make in the case of scarcity because we don't have enough resources that we desire. I'm going to end on this note. In regards to the hiring processes, managers make their decisions using marginal analysis. They look at who has the degree, who has the most experience, who has the most extra curricular activities and volunteer efforts that developed them as a productive member of society? I encourage you all to get this degree, to make yourself better in any way you can. Attend workshops and do internships. All of this will set you apart from the next potential employee. Managers weigh the options of hiring using marginal analysis where they ask themselves is the benefit of gaining this particular employee worth the cost of compensation they are asking for? Think about it! Thanks for listening and I hope I resonated with all of you. I hope you have a great day!
[MUSIC]
MICHAEL: There you have a folks on another edition of Oz-onomics, where economics becomes easier for Oswego students to understand where you get your money that you pay for your tuition worth. If you feel like being ahead of the curve, grab a seat, grab your phone, shift your fingers left and right. And download Oz-onomics on the podcast app. See you later.

The introduction to this podcast was provided by Kate Soanes and Gabriella Schaff. Michael Kolawale provided the outro. Music by Lobo Loco.