Episodes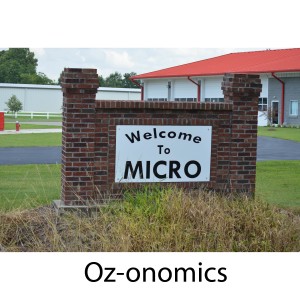 Tuesday Jan 14, 2020
Tuesday Jan 14, 2020
There is a severe daycare shortage in NY, and in the rest of the country. There is too demand, and not enough supply, putting NY on the edge of a daycare desert. There are a few different ways to end, or at least lessen the shortage, such as government subsidies to open more centers, hire new teachers, and help parents afford the very high daycare rates. This would also help put money back into the economy, since more parents would be able to return to work, or even return to work full time without having to worry about childcare.
Podcast by: Elizabeth Evans
Transcript
[MUSIC]
Kate: Hey everyone. Welcome to Oz-onomics, a podcast created for and by students in introductory economics classes at SUNY Oswego.
GABRIELLA: In this series, we'll have discussions about various economic principles and how they apply to our day to day lives.
KATE: Are you ready?
GABRIELLA: Let's go.
[MUSIC]
Hello, my name is Elizabeth Evans. And the title of my podcast is where will the children go? This podcast will discuss the shortage of day here in New York State and throughout the rest of the country. And then we'll also discuss some of the reasons for the daycare shortage and different ways that the daycare shortage could be remedied and we can provide enough supply of daycare for all of the children in need. Right now, in New York, we are in the midst of a daycare shortage. This service about 25 years ago, and supply of daycare has continued to be an issue ever since. According to child care solutions, which is a nonprofit organization that provides information and resources to parents, daycare providers, employers and the community. New York is currently facing a daycare desert. A daycare desert is when three or more children are competing for one open spot in a daycare entity here desert the demand is too high while the supply is too low, which creates issues mortgage demand in New York continues to grow, especially for children aged infants and toddlers. There are many reasons for the lack of supply and in turn the shortage of daycare. One reason for a lack of supply is the lack of facilities. There are not enough physical centers to cater to the number of children in need. facilities are also closing because they don't have the money to maintain them to standards and the state will not re license them to care for children. There is also a shortage of teachers in New York state and across the country, especially qualified teachers. daycare is run on numbers, meaning that they have a certain number of teachers that they are required to have to meet the number of children and every single classroom. The numbers for each classroom changes depending on the age of the children, meaning that infants are lower numbers for children per teachers, while ages such as preschool or school age have higher numbers per teacher. Having an adequate number of teachers is a necessity to meet the demand of all of the children that need to be enrolled in daycares. One issue with teachers is they are not taking the jobs or they are leaving the jobs quickly at daycares because of the very low pay and the difficult working conditions. Without a know teachers daycares cannot fill all of their available spots. Another cause of the shortage is a lack of maternity leave for women. This creates a much higher demand for infant and toddler care. And there are not enough infant and toddler spots for the families in need. If maternity leave could be extended for women, they wouldn't need keras early and they could enroll their children at an older age, possibly even at a preschool age where there is more space and more children can be in each classroom so there's more available spots. Lastly, since the services in such high demand and the supply is so limited, the cost has been driven up so high that it's been unaffordable for a large part of the population. Right now the average cost of Indian keras $15,000 a year, which a lot of families cannot afford. The amount of daycare should be capped at about seven to 9% of income, making it more affordable for families. In this situation, there could also be government subsidies that they could be given to daycares to help them open new facilities, or hire more teachers. So that way there could be more supply while the demand stays same. This will also allow them to maintain their facilities, and then that way they could enroll more children. It will help the lack of supply and hopefully and the shortage if not at least lessen the shortage. The low amount of supply that it has been available lately has driven the price higher and higher for daycares. And since they are not regulated. Most daycares can charge whatever they want to If you were to use demand side policies rather than supply side, it would make more sense to focus on the demand rather than the supply and lowering the prices would help that. Along with the government subsidies to help the daycares expand and allow for more available spots. Increasingly, supply of daycare can also allow more parents to go back to work. By not putting procedures in place to increase the supply. The country is suffering a very large opportunity cost, while the subsidies that are bit that would be given to daycares make hospital government money. Right now, it is costing the country about $6.8 billion a year and that economy due to the lack of child care and the spillover effect of that if the government were to put money into daycares and give them subsidies such as opening new facilities or hiring more teachers, so that they could have more available spots. It would allow more people to go back to work. And it would definitely lessen that impact on the economy. Rather than putting their money into things such as food stamps or welfare, any other welfare programs, which they are already spending a lot of money on. If they were to give the money to daycares it would allow more people to go back to work and it would be a huge economic driver. This way, the supply of daycare would be higher, the demand would be lower and it would hopefully end the day here shortage across the country.
[MUSIC]
MICHAEL: There you have a folks on another edition of Oz-onomics, where economics becomes easier for Oswego students to understand where you get your money that you pay for your tuition worth. If you feel like being ahead of the curve, grab a seat, grab your phone, shift your fingers left and right. And download Oz-onomics on the podcast app. See you later.

The introduction to this podcast was provided by Kate Soanes and Gabriella Schaff. Michael Kolawale provided the outro. Music by Lobo Loco.